Let's keep up with Berti tips to help you choosing the perfect parquet. The world of wooden floors is wide and broad, so sometimes is difficult to find your way and make the right choice between different qualities and range. In the first episode of Berti tips we talked about the different wood species available and the Berti's product range. This time we would like to spend some time talking about the different size and dimensions for paquet floors. The range of choice is wide, you can find different products that can meet the most varied needs and tastes. The first thing that you should keep on mind is that you must choose according to the room in which you'll lay the wood flooring.
Berti offer a range of different products, so you can bring out and appreciate the wood material for its structure and different colors available. You'll find an answer to every requirement of visual inspiration. There's no universally right parquet dimension. The right dimensioni s the one that can guarantee the greatest flexibility and stability. You know you have made the right choice when laying, color and warm of your parquet can be adjusted according to your spaces and furnishing solutions.
Which are, then, the right sizes and dimensions to use for your wood flooring?
First of all it must be remembered that parquet can be both solid hardwood parquet, consisting of only one layer of the same wood species; both prefinished wooden floors, consisting of multi-layer elements made up of two or more layers of different wood species, with tongue and groove joint on the sides. The prefinished parquet is already smoothed and varnished before installation. Berti prefinished can be laid easily and quickly, and this is the guarantee of a first level hardness and stability over time.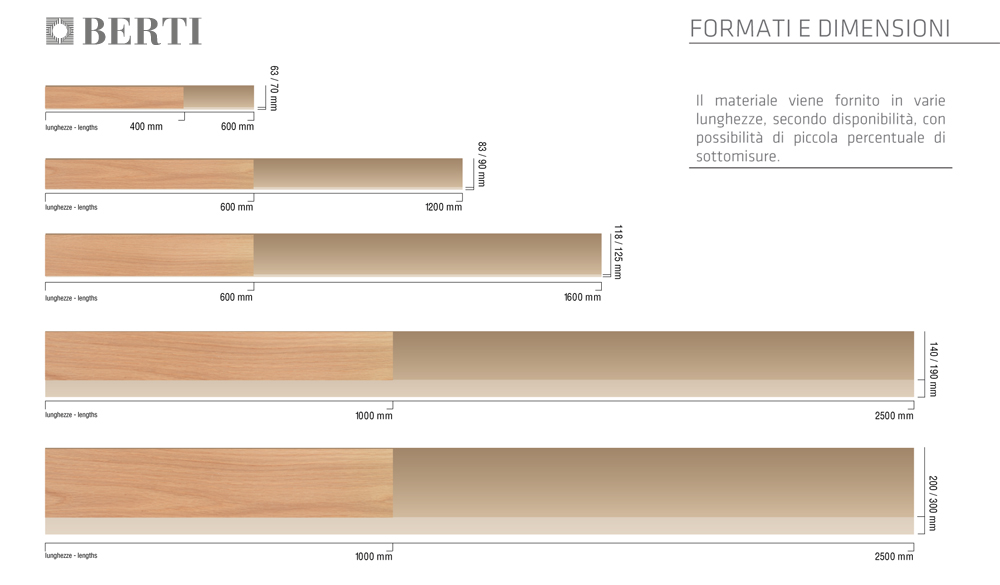 We'd like to make two quick and general considerations about dimensions.
Big sizes have the tendency to make the spaces smaller: this is the reason why with little rooms tou should prefer a Berti Basic 2-layers prefinished 70mm width, with random lengths between 400 and 600 mm, with a total thickness of 9,5 mm; or a Berti Lux 2-layers prefinished, with a variable length between 400 and 600 mm; or you can choose a Berti Antico prefinished parquet, 90mm width and a variable length between 600 and 1.200 mm and 13,1 mm total thickness.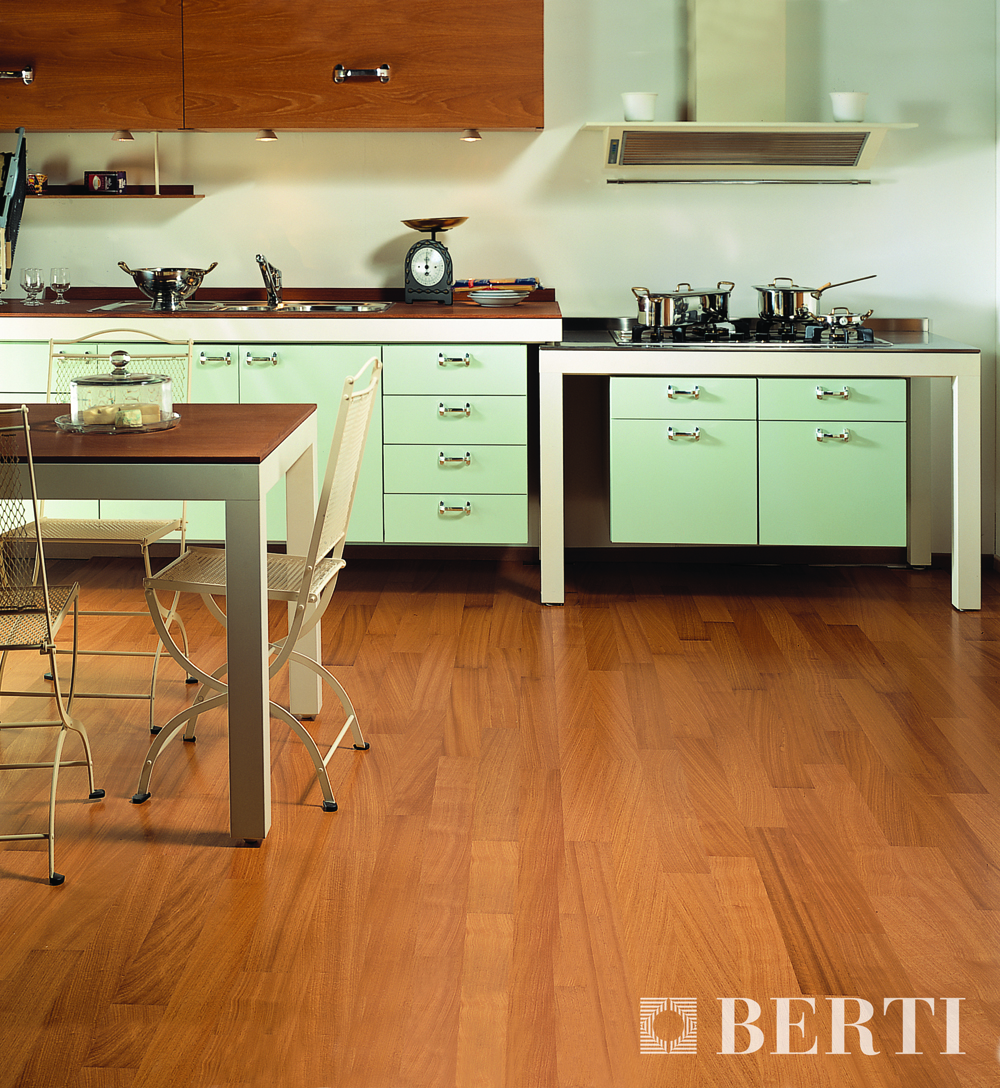 If your home has average size spaces you can consider Berti Lux prefinished parquet 90 mm width (sizes 83/90 x 600-1.200 mm); or Berti Antico Maxi prefinished with a maximum width of 125 mm and a variable length between 600 and 1.600 mm; or even a Berti Basic Maxi prefinished, 125 mm width (sizes 118/125 x 600-1.600 mm).
When you choose this kind of parquet you get a floor with strips or planks pretty limited, but a very pleasant resutl in terms of aesthetic taste and at the same time a convenient price.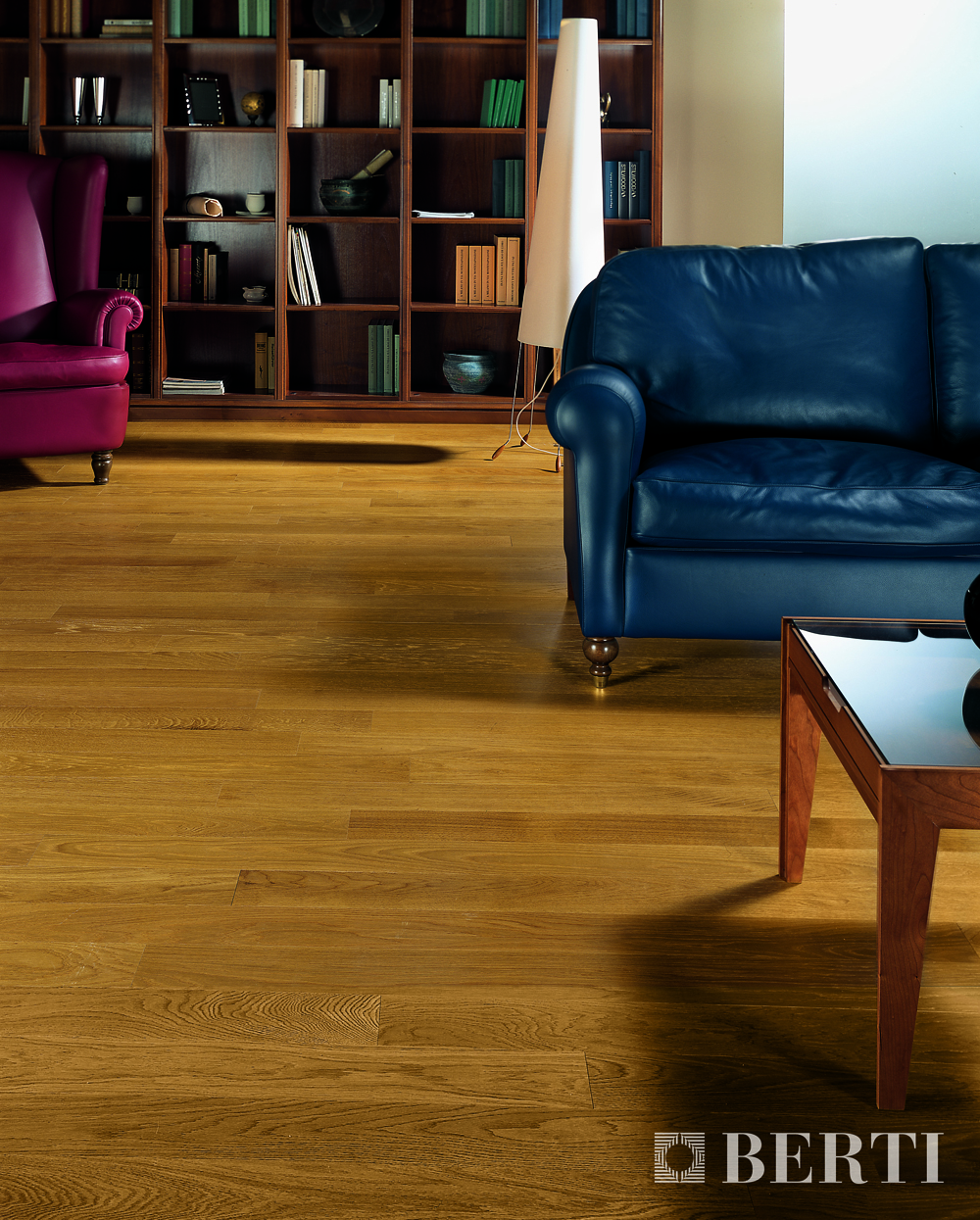 In case you have bigger spaces to deal with you can opt for Prefinishes 2-layers and 3-layers wide planks by Berti and by BertiStudio (sizes 140-190 x 1.000-2.500 mm), in addition to Berti wide planks Large that suggest big sizes with 200-300 mm of width and 1.000-2.500 mm lenght. Such wide planks can give you tactile sensations permeated by a sense of beauty and naturalness.
Of course these kind of recommendation are made generally speaking, since not rare the example of maxi planks or wide boards installed in moderately small rooms or spaces.
In conclusion there are plenty of tips and suggestions, here in Berti we can go on for hours and hours talking about parquet…but in the end it's your personal taste and original ideas the most important drivers. Everyone is incomparable and inventive, and that's the cool thing.
Print