Berti Wooden Floors can give you a wide range of wood species to choose your parquet. But too much assortment could also increase your indecision. This is the reason why we would like to make a quick tour between the different wood species regarding parquet selection. It's the perfect way to understand and choose the best option considering your needs.
Choosing a wooden floor is a matter of wishes. It's a product with an extraordinary duration, a parquet can easily last over 100 years. Parquet flooring is a natural material, that conveys sensations of warmth and well-being. It's a raw material completely renewable: the very same flooring can be restored and renovated, being a totally eco-friendly kind of floor covering.
Parquet world is a wide one: when you reach it for the first time you seem to have unlimited choices, that can be perplexing. The very first choice to make is to select the parquet wood species. This is not only a matter of personal taste or compatibility with your house interiors and style.
The range of wooden species includes a wide range of colors: starting form the ultra light Maple and Bleached Oak to the extra dark color of Wengè, that together with American Walnut is an upcoming trend of the past few months. But you have to consider also all BertiStudio exclusive finishings made by Berti, that are the result of a colour contrast and workmanship to bring out the wood's grain, with a worm-holed sawn effect.
So, what are the most popular choices for parquet floor?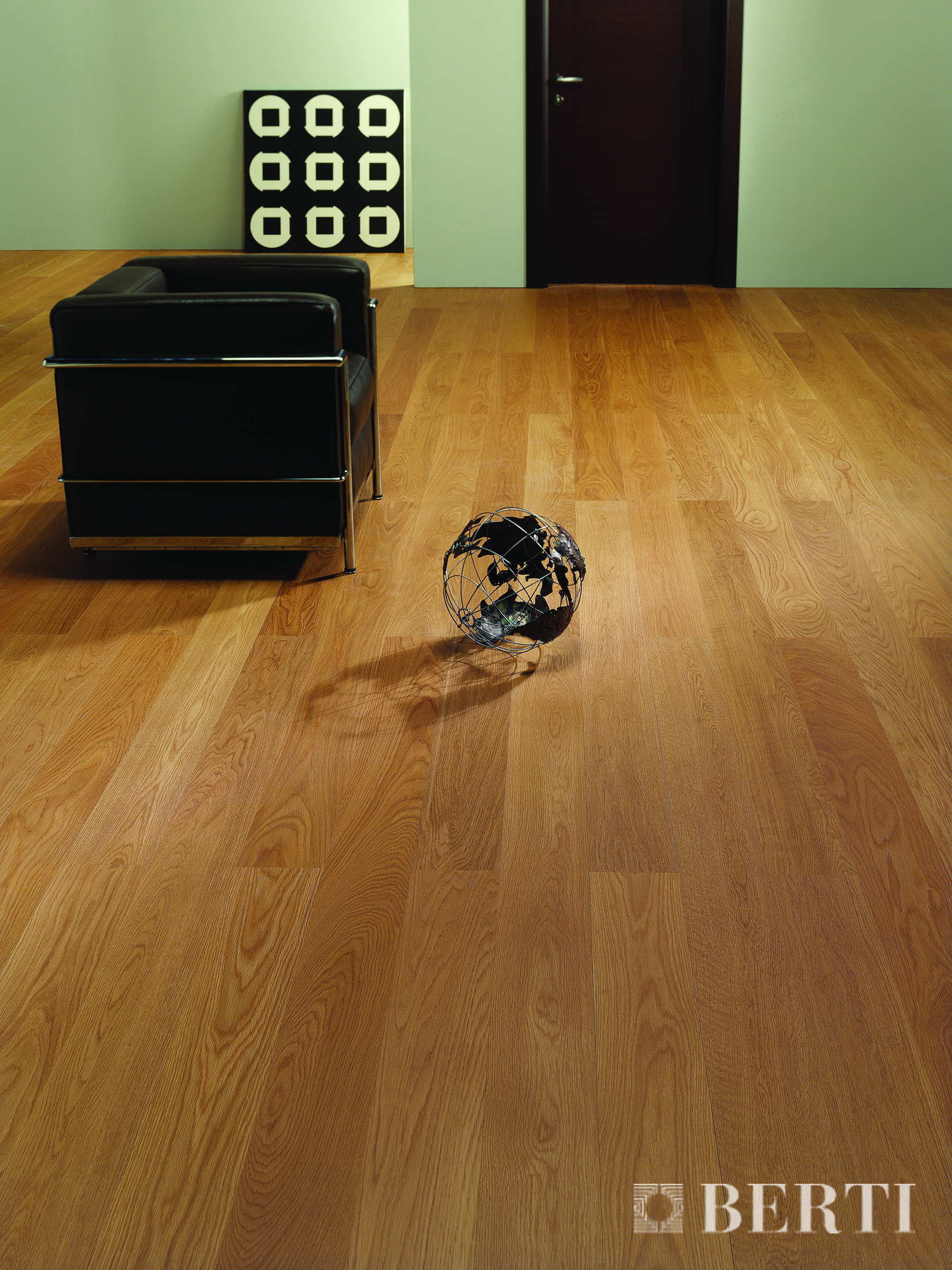 It's quite a long time since Oak has been playing the leading role, thanks to its natural colouring: over time it has the tendency to become darker in the areas directly exposed to light of the sun. Anyway it's homogeneous process since the installation. Another very valued choice is Bleached Oak, thanks to the white and grayish striated grains that can fit in your pick for tiles and furnishing.
Talking about Wengè is't been an hot topic for architects and designer, because of its almost black colour it can be the main element in terms of furnishing choices and it can be easily match to any other colors. Wengè floor is defined by an high quality, since it's a strong and resistance wood, that doesn't change its color with time.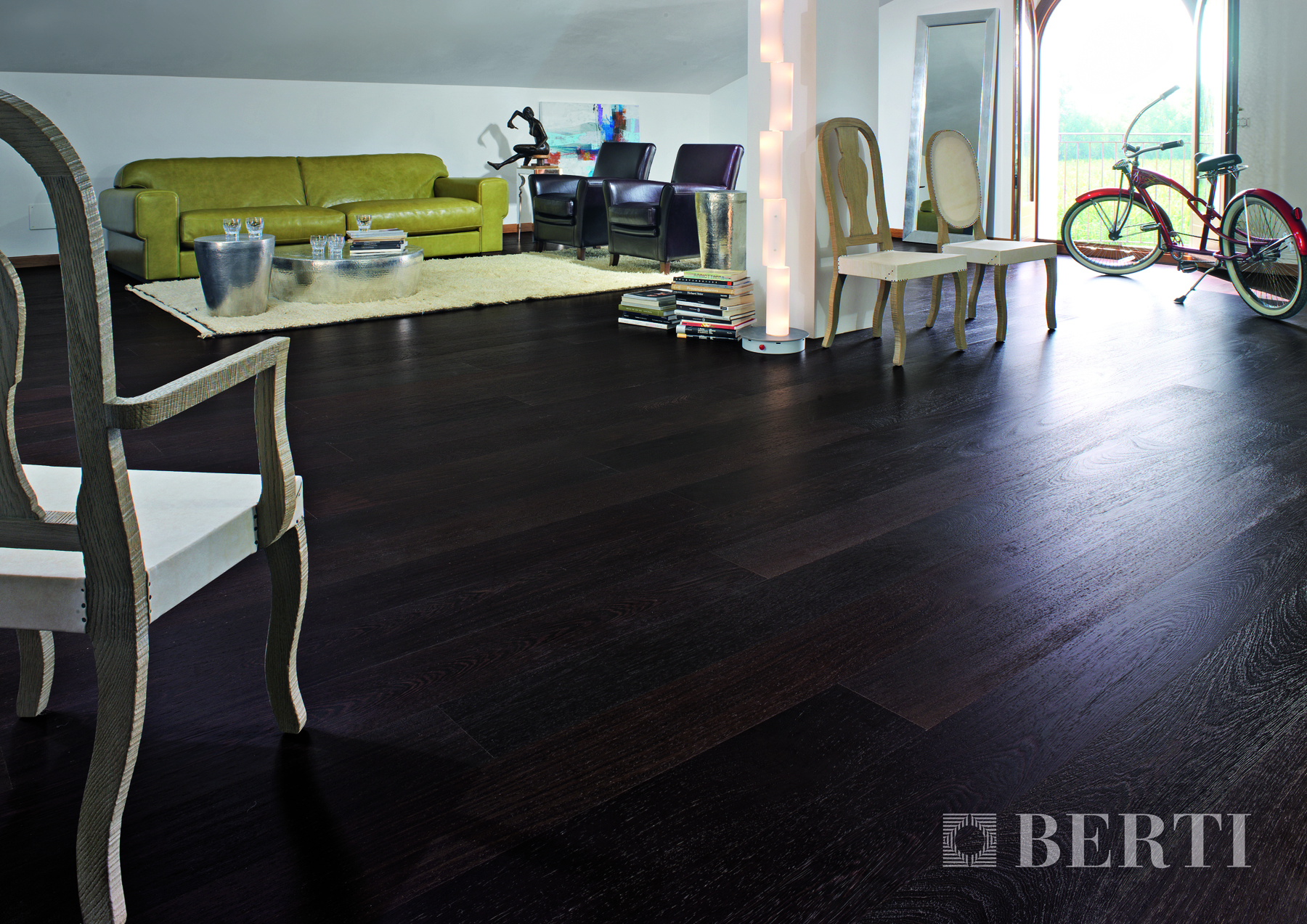 Another very popular parquet is Teak, an asian wood characterized by a yellow tone , with a delicate and supple structure despite its solid appareance. One of the strengths of Teak is its resistance against saltiness.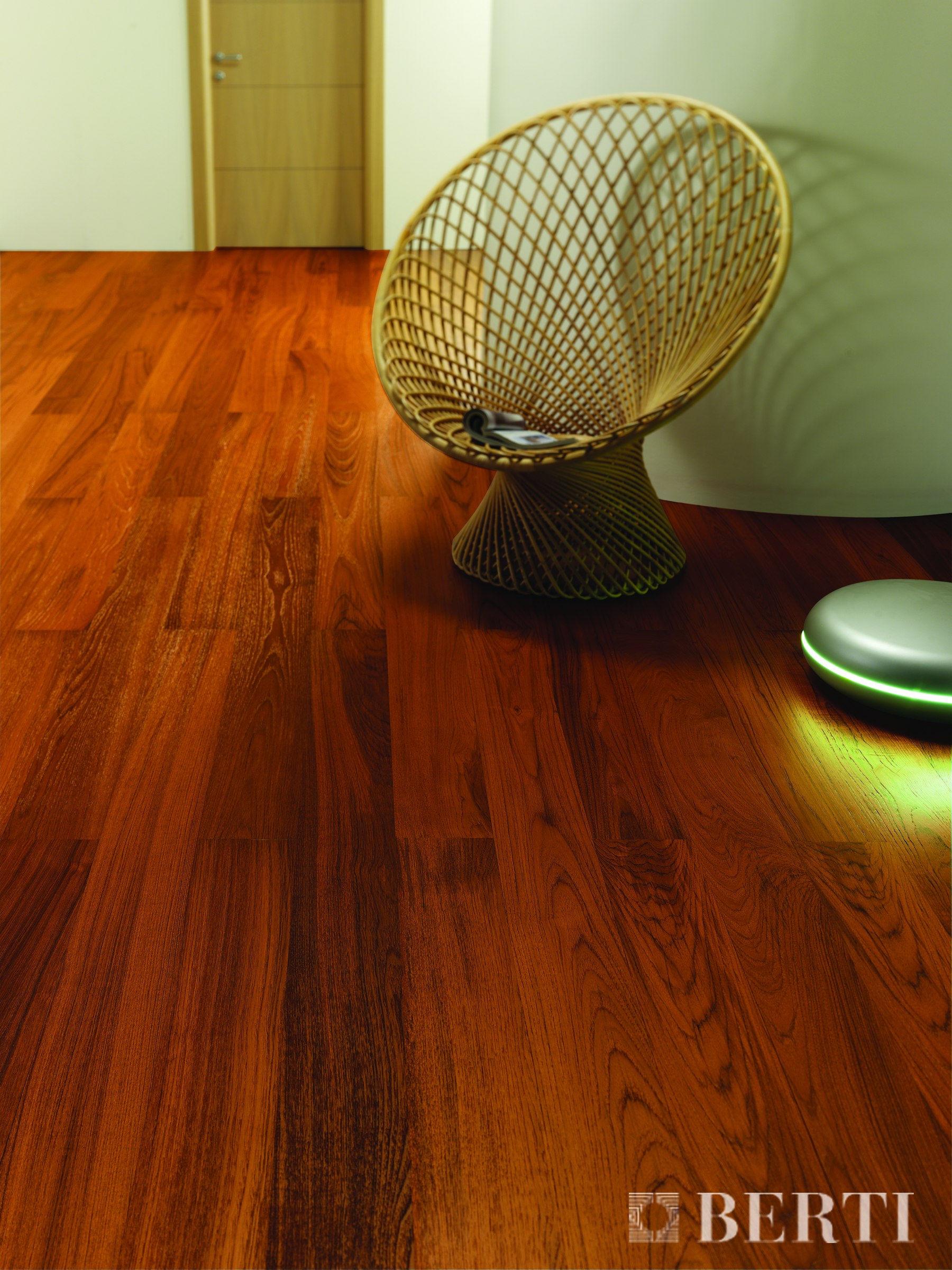 When you are looking for a touch of warmth for interiors Berti suggests Doussiè and American Cherry: these wood species have a reddish brown coloring.
If you prefer the brown shades, in addition to Oak, you can choose Iroko or Afrormosia, that can fit classic and country houses. Afrormosia wood presents a more homogeneous appearance thanks to its parallel grain.
The use of the space is a fundamentally important issue to consider in order to choose the parquet installation: for kitchen and bathroom the most suitable woods are Doussiè, Iroko and Teak that are more stable in contact with humidity.
Berti products suggest natural wood species, that, broadly speaking, maintain colorings intact. But Berti also recommends the BertiStudio collections: these are Oak wide planks, so that you have always the same hardwood; finishing is the only thing that changes in order to create fanciful finishes and shades. BertiStudio consists in two different parquet collections: Avatgarde, designed for people looking for a modern flavour, and Vintage, for special aging finishings that remember past atmospheres. We can meet all your requirements: thanks to high level techniques we can create collections conceived to reflect different tastes and atmospheres, with an exceptional array of styles and colours to choose from.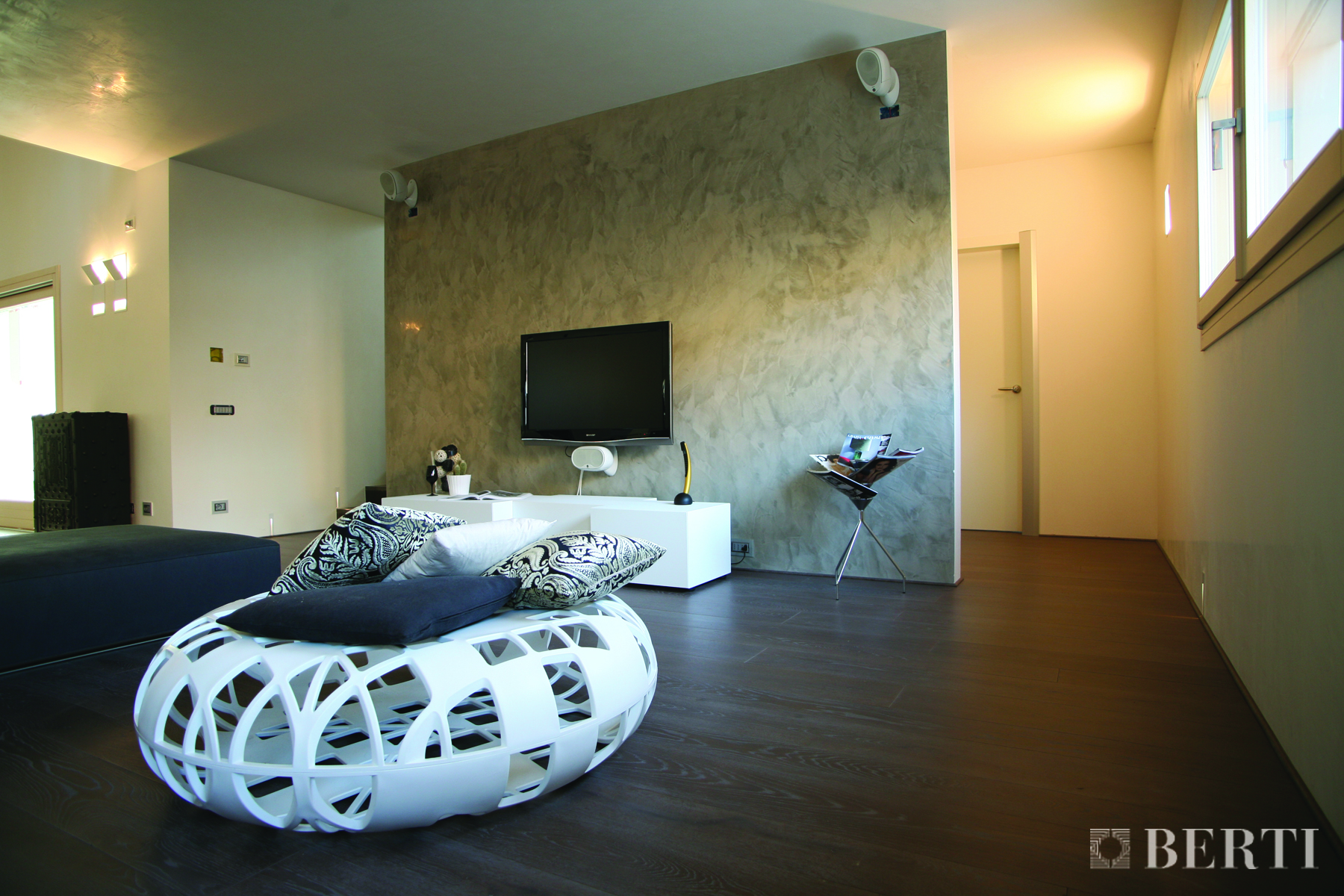 Usually the common taste prefers not to change the type of laying and the wood specie between the living area and the sleeping area. But this is a personal choice here as well.
Before laying the parquet it's good to remember that wooden floors once is touched by the light has the natural tendency to varying its colour. The wood generally becomes darker and its vein patterns more uniform. With regard to Teak is one of the few woods that becomes clearer by the time passing. The duration of the oxidation process is variable, in the first period the transformation will be more noticeable and then it wil be more steady. Generally speaking oxidation phenomenon takes from 6 to 12 months, but all depends on the amount of light that is directly proportional to the oxidation speed. Today you can choose among different kinds of varnishes that can bring out color and oxidation, or instead that can restrict this phenomenon.
If your space is not that big, you may prefer to use small sizes since the reduced floor area can't let you fully appreciate wide planks and boards.
This is only the first episode. Berti tips will continue in the next weeks, to give you the whole picture in the charming parquet world.
Print