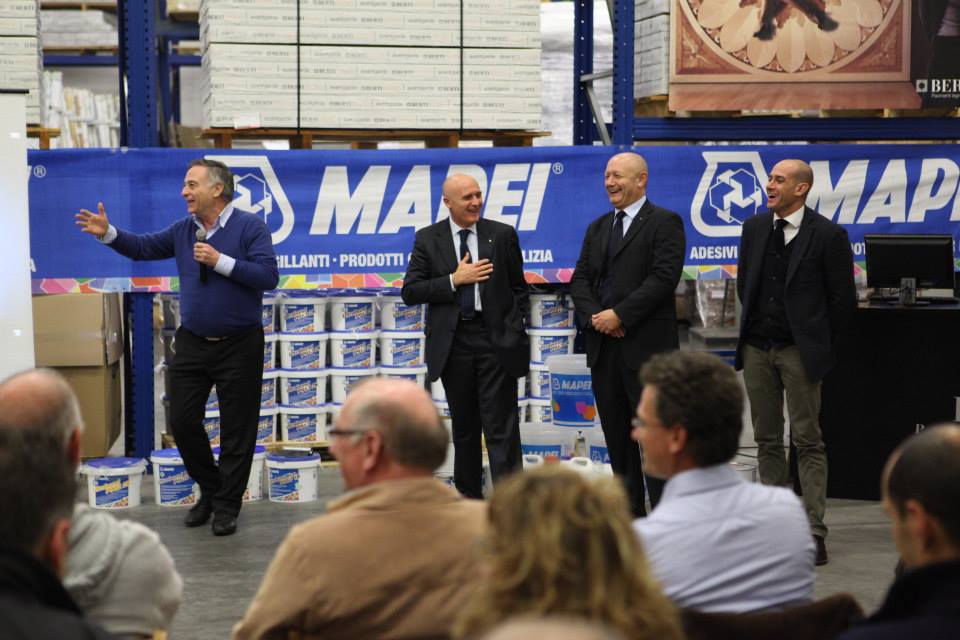 A special appointment, not a gala event but something more concrete: Berti Wooden Floors meets one of the main player in the world building construction, Mapei S.p.A..
Mapei S.p.A. is an historic Italian company, founded in 1937 with more than 40 years working experience in international markets, that counts 7500 employees. Giorgio Squinzi, besides being the sole shareholder of the company, is the son of the founder Rodolfo and the chairman of the Sassuolo Calcio (team that plays in the first Italian soccer league).
A new important agreement between Berti and another prestigious Brand, as happened in the past with Jacuzzi and Swarovski.
The title of the meeting was "integrated system for the parquet installation" and the managers of the company, during the reunion, played an important role and together with a team of installator testing their products for the protection and the installation of our floors.
The event was opened from Mr. Giancarlo Berti (the owner of the company) and then 4 Mapei managers explained their experience,  Angelo Giangiulio (Product Manager – Parquet Line Mapei S.p.A.), Davide Zanotti (Area Manager Parquet – Line Mapei S.p.A.), Alessandro Sacchi (Specialist – Parquet Line Mapei S.p.A.) e Massimo Governale (Area Manager – Padova area).
An interesting meeting that was useful for several factors: improve technical, professional and commercial skills from one side and an open debate between these two companies from other, discussing  state of the art of the global market, analyzing Italian and foreign needs.
The final part of the reunion was dedicated to a buffet dinner with a traditional toast. Nearby we'll organize another appointment, in fact this was only the first of a series of scheduled meeting together with Mapei.
Print