We've just come back from another great adventure. Every foreign experience can teach us something because we leave with a lot of expectations and curiosities and at the end we came home with a bag full of unexpected ideas, and a new contact list along with projects to plan.
We have been in Jeddah Deco Fair last year, and this has been the second important attendance for Berti Wooden Floors for Saudi Arabia.
IThe leading figure in this scenario has been Corrado Mulfari, from Alkayan Decor (nBerti's exclusive dealer in the Arabian market). Corrado has been the real connection between Berti and the Arabian market which is constantly moving and growing. As we mentioned few weeks ago in a video interview, during Rami Bambouk's, visit in our head office, Berti takes a great interest in Arabian commercial trends.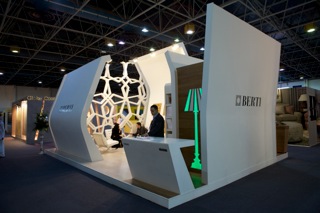 The "Jeddah Decoration and Home Accessories Exhibition" has seen the presence of beyond 600 international exhibitors over five days in an area of around 10.000 square meters.
Here's another extremely important matter to think about: Berti was the only Italian attendance in the wooden floors field. This is no doubt a source of pride for our work and our commercial strategy.
Beside from being the one and only Made In Italy representative in our specific field, we share the exhibition space with several prestigious brands. This has been the chance to start off a conversation, we are talking about companies like: Missoni Home, Fendi Casa, Kenzo Maison, Jean Paul Gaultier for Roche Bobois.
Sometimes the markets and above all the different cultures can bring about concerns just because interlocutors don't know each other. That is what we are talking today: "globalization", yet this is a concept that has still cliché and commonplace.
Setting foot in a new market means to make commercial, cultural, and personal connections. This is the way to build a network more and more broad, crowded and destructured, hard to circumscribe but full of opportunities. The network has the advantage to observe the most recent trends in our field.
Berti doesn't want to stop at this point, we want to carry on this path!
TAKE A LOOK ON FLICKR'S GALLERY SET ABOUT JEDDAH DECO FAIR!
Print