Vepal has seen a deep renewal: from now on our customers have a wider offer with an increased products range. We sell new and improveded product, using advanced technology in order to fulfil different requirements.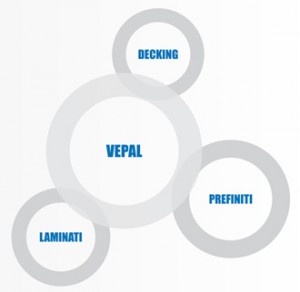 Vepal product selection is now complete: you can choose between prefinished, laminated flooring (no-wooden floor), and outdoor wood flooring with Decking Wpc.
"TDN 30" Loc product range has seen a complete update: starting form today you can buy the 3-strip boards form a new product collection: TDN 3 STRIPS. In this collection we can find 3 different finishings: Rovere Verniciato Liscio (Varnished Polished Oak), Rovere Verniciato Spazzolato (Varnished Brushed Brushed Oak) and Rovere Sbiancato Verniciato Liscio (Varnished Brushed Oak). This parquet consists of 3 layers, for a total thickness of 10mm and a harwood layer 2.5mm thick.

Tavole collect products that you are used to know as Maxilistone "40" Derullato. Nothing is changed but the collection name. We still offer a 3 layers pre-finishedwith a harwood layer 4mm thick.

Vepal Colors experiences a deep change: now you can choose between two different product family, on one side Vepal Colors Verniciato, that keeps offering 3 layers planks, manufactured with tongue-and-groove joints on the sides for a glued or floating installation. There has been a change regarding wood species: now you can pick and choose different oak alternatives. On the other hand Berti presents the big news: Vepal Colors Oliato, 3-layers wide planks veneer counterbalanced with exclusive oiled finishings that give to the surface a velvety brilliance. The oiled parquet can enhance the natural grain of the wood, and at the same time gives protection form dirty and humidity damages. It turned out to be a oiled parquet that can conveys to the touch a feeling of warmth and welcome. The maintenance needs to be careful, but simple and essential at the same time. Each plank is 189 mm wide and 1860 – 1900 mm long.

Prefinito Vepal 10, Vepal's best seller, as from today has a new name: EcoPrefinito Vepal 10, with the addition of EcoPrefinito Vepal 11, 2-layers prefinished parquet with a total thickness of 11mm, available in Rovere Verniciato (Varnished Oak) and Rovere Verniciato Spazzolato (Brushed and Varnished Oak).

With regard to laminated flooring there are important and interesting news about this range of no wood floors.
Laminati Platinum are first-class laminate: they prove an excellent resistance to foot traffic and collisions. At the same time Vepal Laminati Platinum are a refined and up-to-date, thanks to the refined yet unpretentious designs that perfectly mimic the oak planks. All Laminati Platinum products are rated AC5 for durability level of laminate flooring, meaning that they can sustain heavy traffic and that can be used for public buildings and department stores, in addition to all residential areas.

Regarding Laminati Platinum we have changed both decors and sizes available. Vepal has introduced Rovere Cognac and Rovere Sambuca, both distinguished for the design that reproduce the distressed and antiqued finishing of the ancient planks. There is a great presence of grain and knots to give the natual aspect of parquet wood flooring. You can now have the incredible sensation to wlak on actual wood planks, made by craftsmen.

Laminati Trend is a range that keeps its features unchanged. You can still find all laminated floor of the line that you have learn to appreciate.

Vepal has reduced Laminati Easy: now the line has 4 different kind of design, while you can still order the old decors subject to availability.

Decking is Vepal outdoor flooring line: the perfect solution for your floor that differentiate itself for the high-level quality of materials and productive processes. The product range now includes Decking WPC that is made of wood fiber and polyethylene.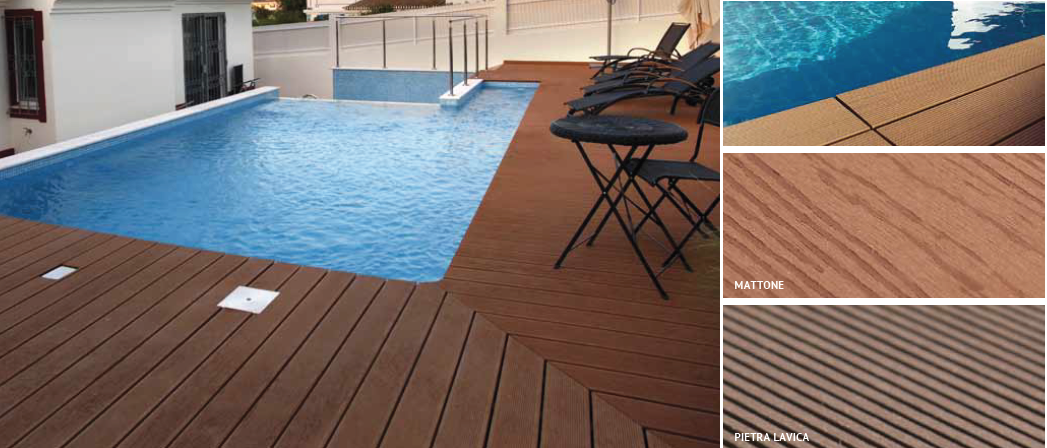 For any further details please contact our sales department. You can also refer to the catalogue/price list that will be soon available at authorized Berti and Vepal store. We're working to update Vepal website, that will display all the news presented in this article.
Please click the following link to see Vepal 2013 catalogue (italian only), valid from 06/01/2013.
Print