The varied world of hardwood floors offers numerous solutions. However, it is not always easy to choose the "right" one. To get a clear idea of which parquet floor to choose and to be satisfied with the end result, follow our advice.

Barbaro square pattern in walnut wood and oak borders
How to choose a parquet?
It depends. The charm of parquet floors is undeniable. A "warm" wood floor makes you feel immediately at home, conveys a sense of cosiness and, at the same time, elegance. Even the most "rustic" solutions, in fact, boast that extra something that doesn't go unnoticed. However, knowing which parquet floor to choose and how to choose it is not easy.
It is the material itself that gives parquet its undeniable appeal. A living, rich, unique material. Knowing how to select the "right" wood for parquet flooring is very important. Thanks to its aesthetic and functional characteristics, parquet flooring is very popular. It is beautiful, but not only that. Cleaning and maintaining parquet is quick and easy. In addition, wood provides a good acoustic and thermal insulation – all features that have made it a premium solution.
The parquet as an esthetic element
The geometry is important because it transmits character and personality to the parquet, making it the true protagonist of the home, it goes without saying. By geometry, we mean the pattern created by the combination of the individual elements that make up the floor. The final appearance of the parquet depends on a number of factors: the size of the modules and the wood boards, the choice of geometric or non-geometric patterns, the creativity of the combination. The choosing of a parquet for your home also means considering this purely aesthetic aspect.
For a more in-depth look at the subject, you can read our dedicated article.

Berti Studio On Demand Chevron flooring

Stockholm wood square pattern, Square Space collection

Prefinished oak parquet, Countryside Tuscany
Light or dark parquet?
Putting parquet in your home is therefore a statement, an elegant and refined solution, but… how do you choose the most suitable colour for your home? For a small room with no natural light, it's best to choose a light-coloured parquet floor, such as maple or varnished oak. Of course, darker wood has always been a hit. It gives character and personality to the room. On the other hand, wood in shades ranging from caramel red to golden brown reflects the search for refinement and brightens the room. Finally, grey. This tint is increasingly in demand because of its uniqueness, and merges refinement and modernity.
Visit our Colors page to browse our large choice of colours and essences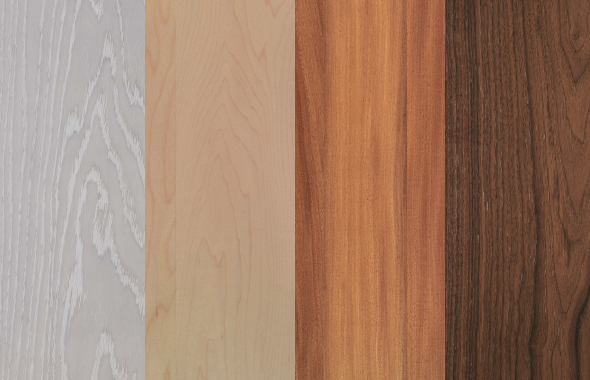 Wood colour and other essential characteristics
Many factors must be taken into account when choosing the wood to be used. Characteristics of the environment, your own aesthetic taste and, last but not least, cost. Among the main woods used are:
Oak: with a honey-yellow hue; it has excellent resistance, therefore perfect for any atmosphere;
Wenge: with its intense dark colour, it is a very hard and resistant wood. Precisely because of its particular colour, it is better not to use it in small, dark rooms;

Wall panelling in wenge and hardwood floor in prefinished oak
American walnut and European walnut: both very valuable – the first has a deep and dark brown tone and a homogeneous colour, the second has lighter areas that contrast with other darker ones;

Old American walnut, Essential collection

Neutral European walnut, Essential collection
Doussié: from brown to reddish or even light yellow, it is among the hardest, most compact and resistant woods;
Teak: a water-repellent wood by nature, particularly resistant and durable thanks to the characteristic oily resin, it is naturally protected from insects, fungi and sudden changes in temperature.

Burma old teakwood parquet, Essential collection
Iroko: dark in colour, from green to dark yellow, it is excellent in terms of resistance and durability.

Neutral Iroko, Essential collection
Pay attention to the wood behaviour when choosing your parquet!
Parquet is a living element. All wood species tend, in fact, to change tone and colour with the passage of time. This means that certain factors may be responsible for slight aesthetic changes. In particular, when choosing a parquet floor, the exposure to light and humidity (which are reflected in variations in its colour) and the room temperature (paying particular attention to the presence of underfloor heating) must be taken into consideration. Also in this case, a selection of ad hoc parquet types is desirable for a long-lasting result.
Prefinished or solid wood: which parquet to choose?
Once the requirements of the environment in which it will be laid are clear, the choice of parquet is oriented towards two types. There are pre-finished parquets, with strips made up of one or more layers of wood (usually birch, ash, fir or poplar) glued one on top of the other or in different orientations, covered by a top layer of wood or wood species (a more valuable wood type); or solid wood parquets, without layers and, therefore, with planks made entirely of the chosen wood species.
➾ ANY DOUBTS OR SPECIFIC REQUESTS? CONTACT US NOW FOR A PERSONAL ADVICE
Print
Comments Off

on How to choose a parquet