The current economic and social situation, due to the extraordinary historical moment we find ourselves living in, is threatening the Northern Italy and also the most developed and productive area of Northern Italy called "industrial triangle". Our region Veneto is  facing one of the most complex challenges since the Second World War.In the last month the company Berti Wooden Floors has repeatedly taken important decisions to better deal with the public health emergency Covid-19, and setting as a priority the corporate social responsibility, able to ensure the health of its staff and the business continuity and finilly deciding the closure to counter and prevent the spread of the new Coronavirus epidemic.
In these days, the golden rule is to stay home and our daily rituals have been brutally disrupted, and we are catapulted into an unexpected extraordinary moment, then emerge our emotional and sensitivity feelings. However, we believe it's important to set aside anxiety, anguish and uncertainty, which is way we prefer to keep positive sharing with you the benefits of our wooden floors. It is a matter of common knowledge that wood is the sustainable material par excellence  able to switching our everyday life in positive thanks the sensations of protection and calm emanating.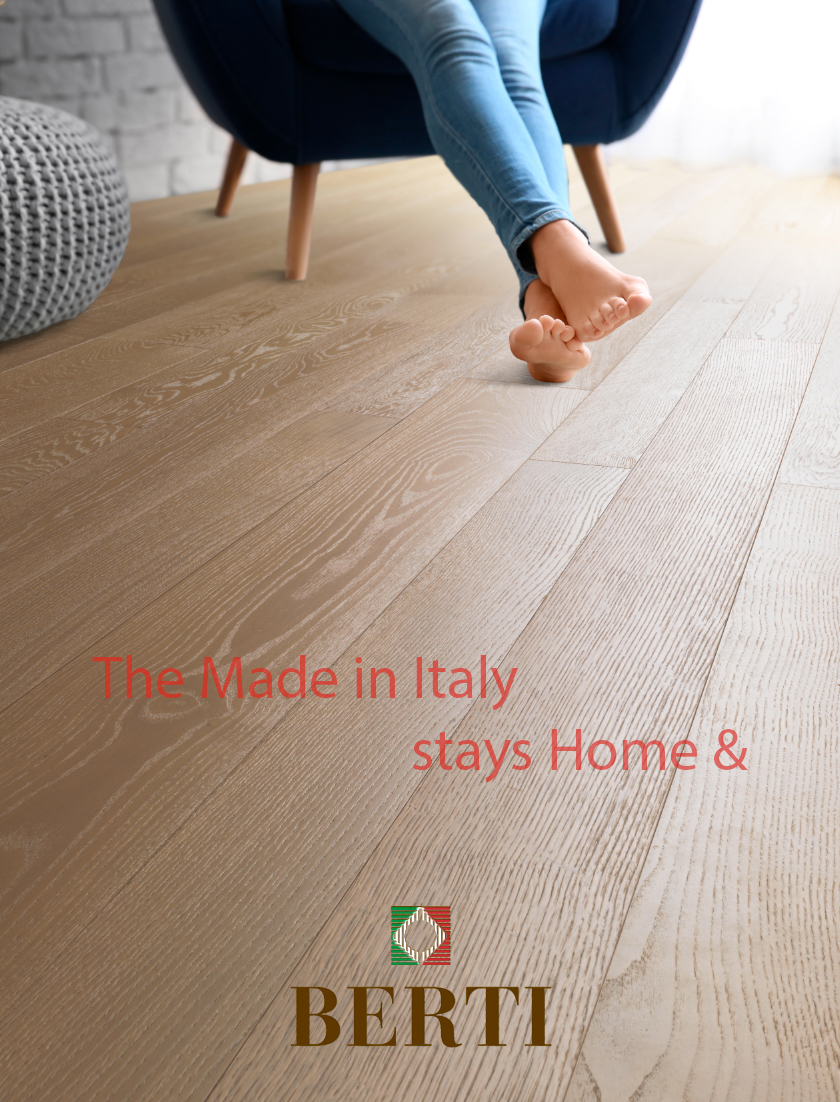 Currently, Home is the place where we feel most safe and protected: it becomes a multifunctional and aggregative space. This metamorphosis suggests that domestic architecture will be radically chance in the near future. We feel sure that, as a consequence of the health emergency, we're developing a much greater sensitivity to health-care concept which can positively impact on the construction awareness, choosing natural and healthy materials.
Research has long shown that exposure to the natural environment positively impacts human health and well-being, both physical and psychological. Behind this issue there is a potential improvement of the spaces in which people stay for extendend time periods: to review the set-up of these places, encouraging the use of wood can can prevent numerous health problems and bring long-term benefits.
UNDER THE FOOT WELLNESS
The floor is among the key element: it acts as a support and surface. Selecting a wood floor is a choice of comfort, beauty and wellness.
In contrast to resilient floors and other plastic or synthetic alternatives, which try to reproduce the aesthetics of the parquet, the wooden floor has its advantages. The use of interior wooden materials has been found to have effects on reducing autonomic stress responses, tension and fatigue, increasing positive emotions and comfortability. Additionally, is a precious material suitable for life and is associated with warmth. Wood can help achieve the following health benefits:
➥ Lower stress levels
➥ Lower heart rate
➥ Lower blood pressure
➥ Improved attention and focus
➥ Greater creativity
To choose a Berti wooden floor may favour the energy saving and the comfort indoor.
➥ Good for Insulation. Is important to keep a home warm in the winter and cool in the summer, reducing energy bills.
➥ Wood is hygroscopic. almost like a sponge, will gain or lose moisture from the air based upon the conditions of the surrounding environment.
➥ Is very durable. Can last up to 100 years in a house inhabited by 4/5 people.
➥ Wood is sustainable, biocompatible, renewable.
For those who have already chosen the quality and beauty of parquet for their home, here are quick and simple procedures that  will keep your parquet clean and conserve it over time.
DAILY MAINTENANCE
Daily cleaning of pre-finished parquet is not difficult, since it is a durable floor covering that does not require any special care and attention. This is because a varnished pre-finished parquet has received a special surface finishing treatment which provides absolute guarantees of impressive hardness and resistance to wear and dirt. To keep the wooden floor looking good over time, simply remove the dust deposited on it each day and clean the surface with a well wrung-out damp cloth from time to time. A few drops of neutral parquet cleaner can be added to the water used on the cloth if wished.
One particularly sensitive issue is the use of alcohol: this may seem to be a harmless way of cleaning and disinfecting the floor, but it is actually very important to pay attention to the percentage of alcohol used, since it may attack the parquet's varnish and damage it beyond repair. Therefore, Berti recommends use of a minimal concentration of alcohol, to prevent damage of any kind.
Our biggest recommendation is to live the floor barefoot: an essential habit to preserve the hygiene at home and to promote the psychophysical well-being. Here are 3 benefits of this healthy practice that connects us with Nature.
 Taking your shoes off indoors it's good hygiene and protects us from toxic substances. A several research reveals that 98% of the bacteria in the house come from outside.
It's a natural massage. When you walk barefoot, these little pressure points get stimulated naturally with the help of every little bump and rock in the road, which enhance the natural healing process of our bodies.
 No more leg swelling. Walking barefoot reactivates blood circulation and venous return, thus reducing swelling and heaviness of the legs.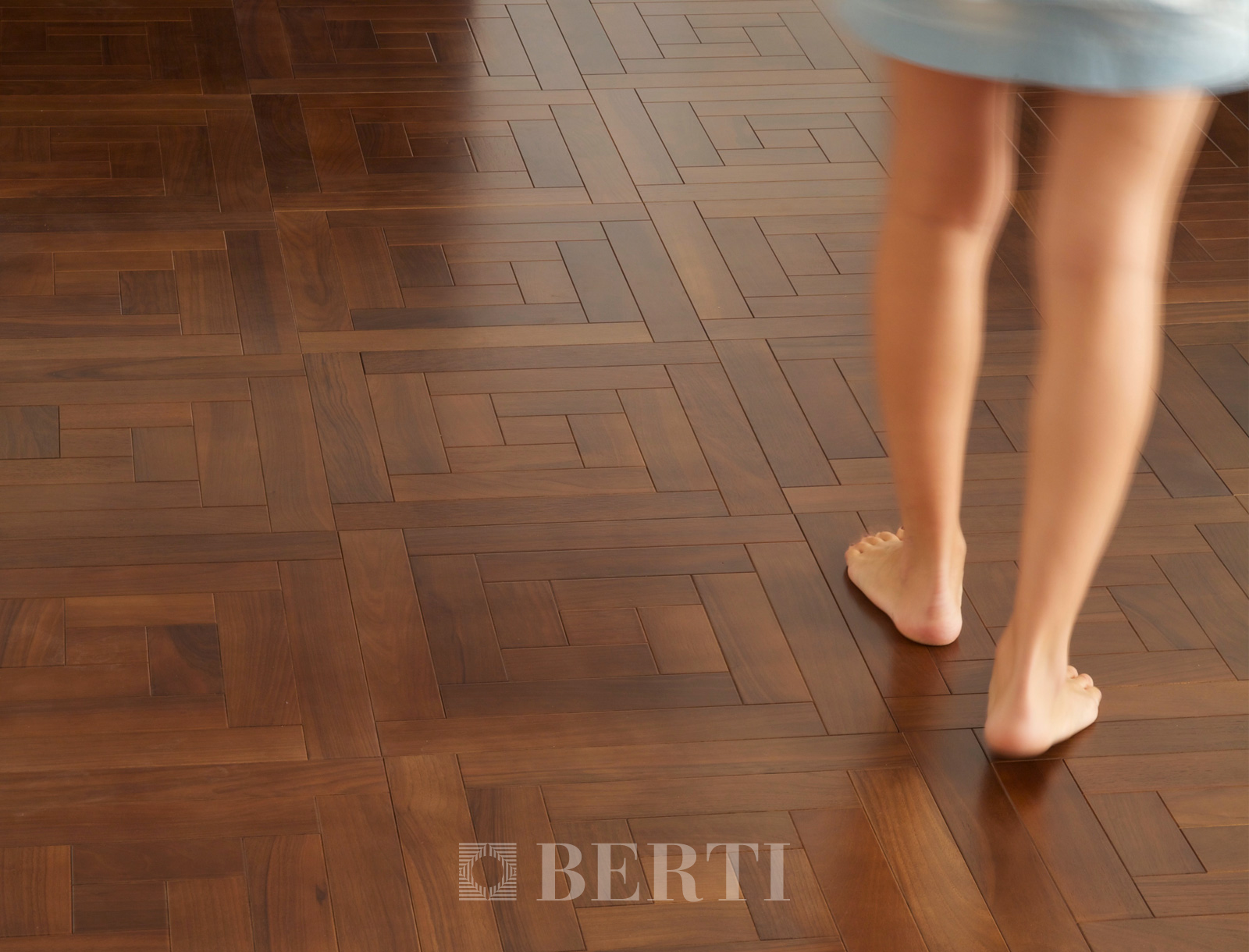 Since 1929 and three generations, Berti Wooden Floor offers a wide selection of products, dimension and treatments to enhance the natural appeal of wood. The company is characterized by the ability to cleverly dialogue with projects in a completely unconventional way, making possible realizations of outstanding value both for their historical uniqueness and for their absolute greatness, for example : 6000 sq.ms. at Kremlin Palace; the seat of the Italian Chamber of Deputies Palazzo Montecitorio; the office of the President of the Italian Republic at Quirinal Palace; Armani Hotel in Dubai; the royal Residence Windsors Castle; Teatro La Fenice in Venice…).
Our effort, today more than ever, is to spread the culture and use of this precious material.
Discover on-line the comfort of our products.
☞ DOWNLOAD CATALOGUES
DOWNLOAD 3Ds TEXTURES FOR YOUR NEXT PROJECT:
☞ Diesel Living with Berti
☞ Berti
STAY CONNECTED WITH US ON SOCIAL MEDIA
☞ Facebook
☞ Instagram
☞ Pinterest
Print