Real
parquet
flooring gives any room an extra touch.
But it's all about wood quality. Here's what to look for
Pre-finished oak parquet Essential Neutro
Not all woods make a parquet
A quality parquet is a matter of species (that is, the actual living tree), thickness, finish and international standard certifications. A parquet floor worthy of the name should check all the boxes. With a pinch of salt, though: it's hard to get it all and you will be often running into more or less extravagant variations. However, the secret is to come prepared when buying a floor. Here is all you need to know to pick the perfect, truly long-lasting hardwood floor.
Wood species
Different species of wood can be used to make parquet flooring: walnut, oak, chestnut, cherry tree and many other wood types boast unique features, to be evaluated in terms of resistance over time and aesthetic appeal. With regard to the latter, there is a norm for that – regulated by UNI EN 13489 – based on the finished appearance. The three categories, are marked each by a geometric symbol: a circle for Extra, a triangle for Natural and a square for Rustic.
"EXTRA": PREMIER GRADE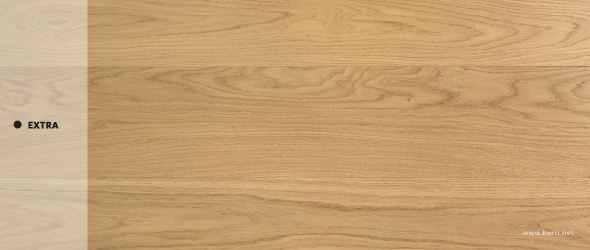 The parquet will have a regular straight flamed grain, occasional small, non-compromising imperfections called lived knots, and boards without sapwood (the softest and lightest part of the trunk). This grade is also known as rigatino in Italian, or "striped".
"NATURA": NATURAL GRADE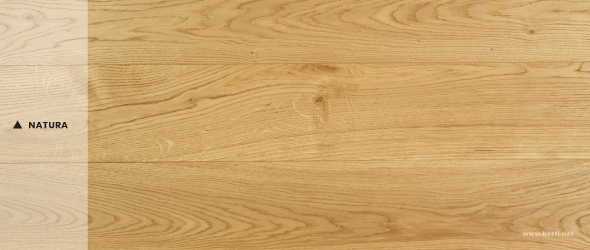 In its natural selection, a "flamed striped parquet" shows slight colour variations while having homogeneous grain patterns, possible deviations, healthy knots of limited size (up to eight millimetres in diameter) and some sapwood.
"RUSTICA": RUSTIC GRADE
Full of cracks, "mirror" knots and accentuated streaks without specific limit of size is the "raw" selection and therefore a cheaper option for parquet.
How to choose a parquet floor
The devil is in the details. Among the features that increase the quality of real wood floor, is the particular workmanship of the boards (bleaching, brushing, planing, biting, etc.). Combined with elaborate inlaid patterns, unusual geometries or original decorations reflect craftsmanship of the product and thus, the particular value.
To choose the right parquet, first have a look at the bare room where it will be laid. Consider elements such as the size and brightness of the room, and, obviously, your stylistic choices.
Solid wood or engineered flooring?
These are the two most common types of parquet. How do they differ? A solid wood board consists only of noble wood (such as Olive, Elm, Oak, Beech), carved from a single block up to 22 millimetres thick.Oon the other hand, prefinished (or engineered) parquet, only the surface layer is made of noble wood (with a thickness varying from 2.5 to 6 millimetres). It is then glued to a support of other types of wood: Birch (the best in terms of stability), Spruce, Poplar or Pine.
For its prefinished parquets, Berti uses only the best quality supports in birch and fir wood.
Parquet thickness:
elements to know
Last but not least, the thickness. A quality prefinished parquet floor measures from seven to fifteen millimetres (with four millimetres of noble layer), while solid wood floors exceed twenty millimetres. All of them must be finished with excellent non-slip varnishes and precious protective oil, which also guarantee resistance.
To offer a wide range of performance, aesthetics and price, Berti's prefinished products are many and varied. Choose your prefinished wooden floors with up to three layers of structure.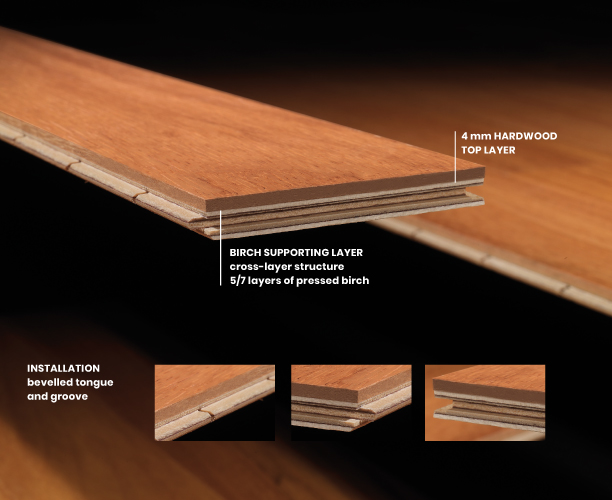 2-LAYER PARQUET
The 4mm-thick surface layer of noble wood is attached to a 5.5 or 9mm lower support layer in birch wood, in a special, cross-pattern structure – from 5 to 7 layers, that guarantees maximum stability.
PARQUET 3 LAYERS
The 3-layer boards are composed of noble wood on 4mm, then an intermediate layer of 8mm thick fir boards, laid transversally in order to ensure the right structural flexibility, and a counterbalanced fir board, 2mm thick, to ensure the perfect stability.
Certified parquet?
Yes, please
Serious parquets have a sort of ID card. This specific documentation certifies, for example, the origin of the wood, the place of manufacture, the possible presence of formaldehyde, the quality of the materials used in the finished product, and the resistance to fire.
These "spec sheets" are made available in the download section of our website.
some certifications
➾ DISCOVER BERTI'S PREFINISHED PARQUET COLLECTIONS
➾ CONTACT US FOR MORE INFORMATION
Print
Comments Off

on Types of parquet: how to recognise a quality hardwood floor.